ACNE BLEMISH RELIEF COLLECTION
Item ID:
Regular price
$99.00
Sale price
$89.10
Unit price
per
Sold out
View full details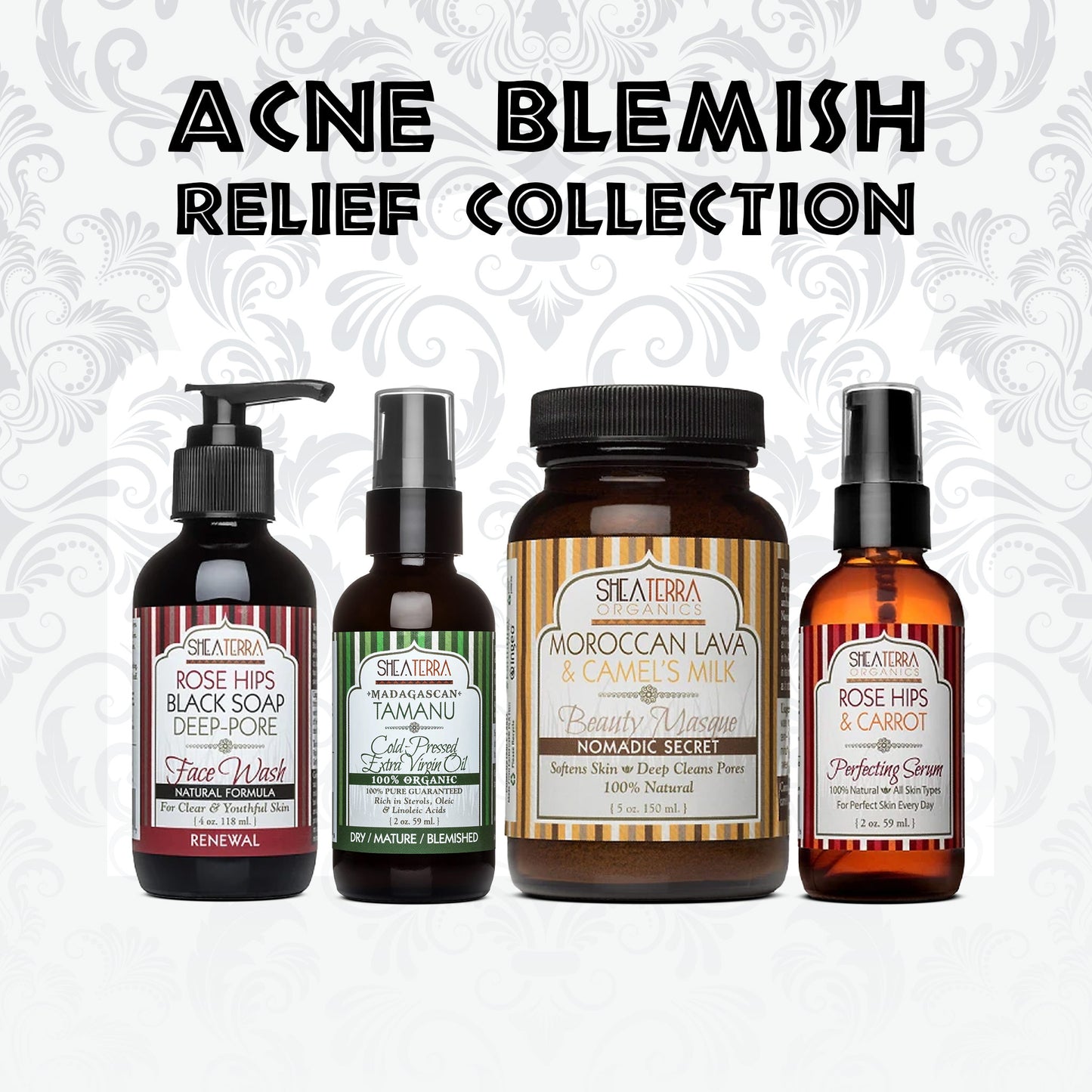 Acne occurs with the tiny pores in your skin get clogged by excess oil, bacteria, dirt, or damaged skin cells. If this happens, acne or blemish may develop.
Also, if you experience acne breakout repeatedly, it may result in acne.
Now, do you know that acne is among the most common skin conditions in the United States? Also, over 9.5% of people globally struggle with acne.
Though acne is not a serious medical condition, it can be painful, especially if severe. Even worse, getting recurring acne may lead to scarring.
Symptoms of Acne
Skin discoloration
Dark spots on the skin
Redness of the skin
Pain or tenderness, especially when you touch the spot
Risk Factors Associated with Acne
Though it is still not clear why some people will experience acne while others have super-soft skin, certain risk factors may lead to acne:
Hormonal changes, especially during pregnancy and puberty

Smoking cigarettes

Lack of sleep

Stress

Endocrine conditions like PCOS

Using beauty products with higher oil content

Medications such as lithium, birth control pills, steroids, and more

Genetics

Your diet
Best Acne Blemish Relief Products
Amazing Products
I'm 40 yrs old and my skin is no longer capable of sustaining the abuse of typical acne products out there that work by drying out your skin. I used all that in my teens and 20s making the problem worse instead of better. It wasn't until my 30s that I learned it was all the chemicals in those products and my cosmetics that was causing my acne issues. I finally adopted the 5 ingredient rule in my skin care routine and switched to cleaner cosmetics. The 5 ingredient rule is that whatever I use should not have more than 5 ingredients in the label and I should know and understand what those ingredients are. Finally the worst of my acne was gone but I still had stubborn blackheads on my nose and these little bumps on my forhead that would come and go (almost as if it were a stress rash). I needed something that would help but also be gentle on my maturing skin. I needed it to both help my acne and soften my skin and help with plumpness and pigmentation. I've been using this acne collection for 2 weeks and it has done wonders. My skin is soft and supple. The bumps on my forhead are finally going away. Little by little each day but what I'm most amazed with is the color of my skin. I'm no longer blotchy and my rosacea is barely noticeable! Even my mom noticed a difference. At first she was a little upset at what I had spent on it and some stuff I got for her too but she's seeing results from the products I got for her too. I'm a die hard Shea Terra customer now. Also they have the best customer service. I was missing a kit from my order and thought, how am I going to prove they didn't send it? I sent an email explaining it was missing and that instead there was a full size serum in my box that I hadn't ordered. The very next day they answered. Apologizing and informing me they would ship the missing kit immediately and that the serum was in fact a gift. I guess because it was a really big order. Plus a lot of little samples. Smart move cause I can't wait for another big sale to buy some of the products I sampled ;P This stuff is quality, clean, and good for your skin. My only regret is that I didn't have this in my teens.